Dental gases, air, and vacuum systems are an integral part of both dentist practices and dental teaching facilities. Ensuring a high standard of purity is vital to the safe running of dental gas systems. Midland Medical Services bring you experience combined with a commitment to make sure that your dental gas systems will be installed and maintained to the highest standard.
A well-designed and installed dental gas system will be more efficient, and cost-effective to run. Intelligent design can optimize the functionality of the system, as well as keep the installation costs at a sensible level. When you come to Midland Medical Services for your dental gas systems, we will take the time to listen to your requirements. A small dental practice with one operating room will require an entirely different system to a large practice, spread over an old building, and again a dental teaching hospital will have a whole different set of requirements. With us, we always design according to your need and usage, with the capacity of design to future developments if required. A cleverly designed system will be able to be added on to at a later date, without incurring high costs. When we install dental gas systems you can be sure that the air is pure and bacteria-free, and that the system is correctly installed, and thoroughly tested before use.
Dental gas installations are required to be compliant with the regulations laid out in the Health Technical Memorandum HTM. When you come to the team at Midland Medical Services you can be confident that we are always operating to the highest standard and within the latest regulations. We keep track of any developments in the field so that we are always at the forefront of the most recent research.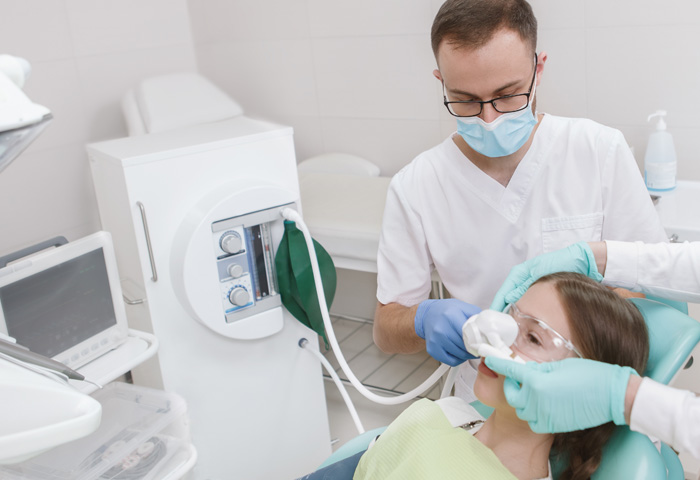 Our dental gas installation and maintenance services sit alongside our other gas services. We work with medical gas systems and laboratory gas systems, as well as dental gas systems. Some locations such as large hospitals may require different types of gas systems for different areas of the hospital. With our expertise, we can run different systems in different areas, no matter the complexities required of the systems. Our dedication and attention to detail mean that whether you need a small dental gas system maintained or a large multiple usage gas system designed and installed we are equipped to help you.
If you are considering a new dental gas system, or are looking for a maintenance contract for your dental gas system, look no further. We are renowned for our professionalism and dedication. Our teams of engineers are available for regular services, and emergency callouts. We take great pride in the work that we do, and this will be clear when you speak to the professional teams at Midland Medical Services. We are solution-focused, always seeking answers and researching to solve problems. Whatever the size or scale of your project we will approach it with the same diligence. To discuss your dental gas system with the team at Midland Medical Services simply call today.