Medical Gas System Design
Design is one of the most important elements in your medical gas system. A cleverly designed, excellently engineered medical gas system will be efficient and usable for the long term. A medical gas system that will work with your operating process and the workflow of your day will make such a difference to your efficiency. Medical gas pipelines that are optimally designed will work better for you.
Midland Medical Services brings you the best design team, combined with an impeccable engineering team to give you first-class medical gas pipeline systems. Whatever the size or scale of your project we will approach it with the same intelligence and integrity that we approach every project. Whether you need a small 8-bed ward fitted with medical gas piping, or an overseas field hospital equipped quickly and efficiently, our team is ready.
The design element of our medical gas management is crucially important, as good design is the foundation for so much more. However, all the elements of our medical gas management have importance. Good design without a good installation team is rendered useless.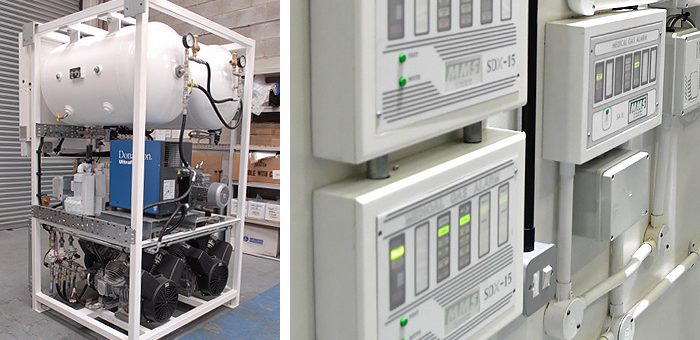 A medical gas system that has been designed and installed, is worthless without correct commissioning and maintenance. All the elements work together to ensure that the medical and laboratory gas systems that you use are first-class.
At Midland Medical Services we work with you and can provide you with any one of the elements, design, installation, commissioning, and maintenance. Good design is the foundation of a good medical gas system. If the design element is not correct then you will always be struggling against that, no matter how well-maintained it is. We pride ourselves on the quality of our design team. Good design doesn't just encompass being able to design from scratch but includes the ability to work with old or difficult systems and restore them to optimal functioning. We have an in-depth understanding of operating systems, which we bring to all our designs. This combined with our ability to listen, and our years of experience means that our designs are industry-leading.
Our experience and knowledge enable us to problem-solve; we are solution-focused. Whatever problem you are facing on whatever scale, we are the team to tackle it. It is why we were approached by the NHS team in charge of the Nightingale hospitals. It is why our team designed and installed the medical gas systems for the Nightingale hospital, in an incredibly short time frame. It is why we are regularly asked to consult on NHS projects.
Whatever the size of your project, from laboratory gas to medical gas, from dental set-ups to field hospitals, we are here for you. The team at Midland Medical Services is experienced and knowledgeable. We invest heavily in both technology and our people, to help us remain at the forefront of our field. If you want to benefit from our expertise, we are here for you. We are ready to work with you, alongside you, to ensure that your medical gas systems are working at their optimum for you. Simply contact the team at Midland Medical Services today for a no-obligation discussion about your medical gas systems.