Laboratory gases are increasingly a vital component in a laboratory. Research and development at the leading edge of science are increasing all the time and the resources that are required are also on the rise. If you are looking to install, upgrade, or service laboratory gas systems, Midland Medical Services are ideally suited for you. We have many years of experience and knowledge, as well as a keen understanding of the importance of fully functional laboratory gas systems. We are driven to ensure that the service we offer is second to none, whether you are looking for a complete laboratory gas system installation with multiple diverse gases or a simple single compressed air line.
When you come to the team at Midland Medical Services for your laboratory gas systems you can enjoy the benefits of working with a company that is renowned for its professionalism and attention to detail. We will always begin by discussing your requirements with you so that we can understand the precise requirements of your laboratory gas system. When we understand how it will be operating, and what pressures of usage it will be placed under, we will be well-prepared to advise you on the best system for your needs. Your laboratory gas system will be designed for you, your team, and your environment.
As well as our first-class design, you will receive the same excellence in your installation. You can be confident of receiving high levels of purity and cleanliness in your pipelines. All our tubing is chemically cleaned and we use high-quality compression fittings. This means that no contamination can be introduced into your instrumentation.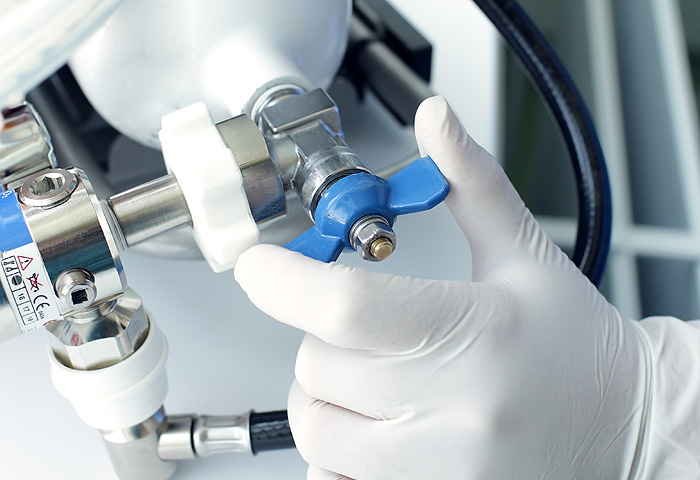 Our finish is always of the highest quality. We make sure that all tubing is discrete and protected, and hidden where possible, within the limitations of the environment. Our laboratory gas systems are designed to be used immediately, the lines will be finished with fittings that will suit your instruments. All laboratory gas systems will be tested and you will have a record to show this.
Laboratory gas systems are highly regulated by the British Compressed Gas Association BCGA. All our work is carried out in compliance with the BCGA code of practices. These regulations ensure the safety of laboratory gas systems, and your laboratory gas systems must be installed and maintained in accordance with the BCGA guidelines, as poorly fitted, or badly maintained laboratory gas can be exceedingly dangerous.
We work with a multitude of different clients in various sectors from the pharmaceutical to the industrial research industries, to install and maintain their laboratory gases. We are committed to building long-term working relationships with organisations to maintain their laboratory gas systems. Many systems are old, but where budgetary issues can prevent full replacements from being carried out, we have the engineering capabilities to repair and maintain an older system to keep it operational. We will always work with you, and the scope of your needs and barriers to find a workable solution.
If you are looking for a new laboratory gas system, an adjustment to your current system, or regular maintenance, the team at Midland Medical Services is here to help. We approach all projects, from the small to the large, with the same positive solution-focused attitude. Our engineers are highly experienced, trained, and professional. They will always draw upon their own knowledge as well as researching the answers to our clients' specific questions. We are always available for an initial discussion about your laboratory gas systems. Speak to the team at Midland Medical Services today about your laboratory gas.