Though every project that we undertake is important, and all our clients are valued, and worked with to the same high standard that we are renowned for, some projects are worth a special mention. Whether that is due to the complexities of the engineering challenges with a project, or the time constraints, there can be unique features that set them apart. We are honoured to have worked with two incredible organisations, who have trusted us to produce odd-defying solutions in times of need. The first is the UK and Norwegian armed forces who came to us to design and build a mobile, portable field hospital medical gas system. The second is the NHS during the Coronavirus pandemic who came to us for their Nightingale hospital medical gas system.
Design and build of field operating facilities for the UK and Norwegian armed forces
In warfare, one of the issues can be how best to treat injured troops in war zones. If you can stabilise them then you can fly them back home for further treatment, but much of the initial life-saving treatment will often take place in difficult terrain under treacherous conditions.
We were given the challenge of designing and assembling several transportable containers to serve as field operating facilities for the UK and Norwegian Armed Forces. This service module was a difficult build due to the severely limited space available, coupled with the equipment, which could be easily accessed and maintained.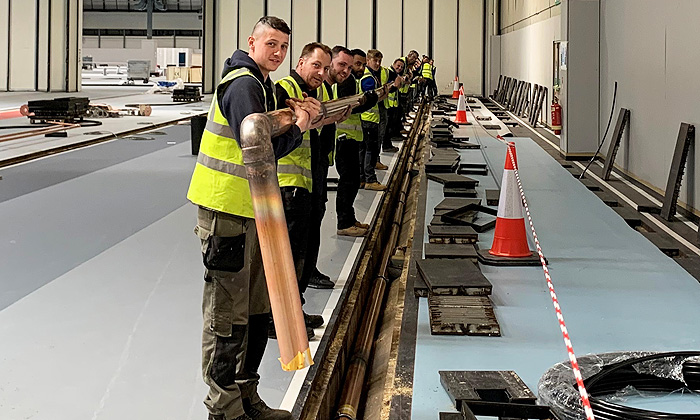 It certainly proved almost impossible at first, but by using our experience and knowledge of design, systems, and plant, we were able to incorporate every item into this sophisticated piece of machinery. These mobile operating facilities are a true demonstration of the talent and creativity of our teams. The challenges and hurdles that they encountered whilst designing and building these, were extreme, yet with continued perseverance and the ability to think outside the box, they were able to develop a solution.
Not only did we achieve the initial design and build, but we continue to offer worldwide ongoing support to the UK and Norwegian armed forces. From deployment and set-up of the units to training personnel on how to use the equipment. We also maintain the units so that they operate optimally, as well as provide breakdown assistance and repairs where needed. As we are always researching the latest advances in the industry, we are well-placed to provide ongoing development to continue to improve the field operating units.
Design, build, install, and commission an 840-bed emergency Nightingale hospital in 8 days
Midland Medical Services is acknowledged as one of the industry leaders in the medical gas field. This is why during the Coronavirus pandemic the NHS summoned Keith Merrick, director at Midland Medical Services to consult and advise on the installation of piped oxygen into an emergency NHS Nightingale hospital. As the pandemic swept through the country time was truly of the essence. The team at Midland Medical Services did not disappoint. They descended upon the NEC, an entertainment venue in normal times, on Wednesday 1st April 2020. By the 9th of April 2020, 840 beds were piped up and completed. After pharmacy and engineering tests were carried out the beds were ready for use. An unprecedented achievement during unprecedented times.
During the year that followed various revamps and upgrades took place, with more beds being added to the Nightingale hospital. In March 2021, Keith was once again summoned by the NHS, to dismantle the medical gas pipework and restore the NEC to its former glory.
Though the challenges presented by both of these projects were extremely different, the team at Midland Medical Services met both challenges with commitment, dedication, and perseverance. Both projects had hurdles, of design and of time, but both were overcome by passion and determination. If you require any special or unique projects to be designed and built, please speak with the team at Midland Medical Services today.